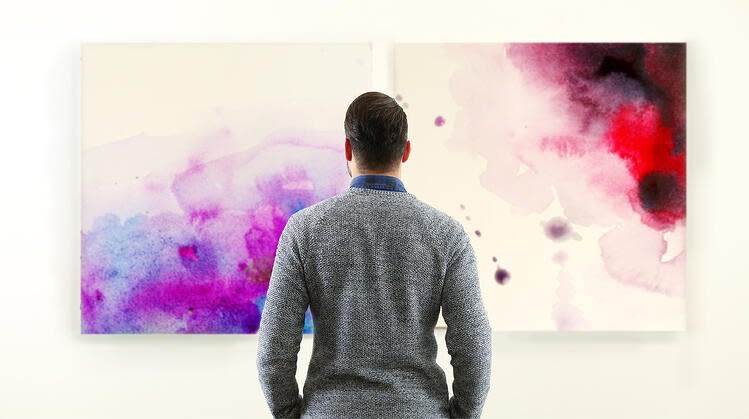 BEING LOST IN THE ART
Do you remember visiting an art gallery and getting lost in the painter's vision on the canvas? Well, visiting art galleries or viewing art online or even painting yourself can leave lasting effects on your health.
If you have been a fan of visiting your favourite art gallery and couldn't enjoy it anymore due to the lockdown, you can always join online exhibitions. Art Galleries in London and several other places have started an online exhibition of art to enjoy it from their homes.
ADDING COLOURS TO YOUR HOME CAN BRING IT TO LIFE
You might be bored of seeing the dull walls of your home every day. A small change, such as new artwork on the wall, is all that you need to spice things up. While people go for more neutral colours these days, a small pop of vibrant colours on canvas can make everything appealing to the eye.
You do not understand how vibrant colours can boost your mood instantly. Vibrant or warm colours indicate cosiness and joy—a perfect option to lift your mood these days.
OFFERS A SENSE OF COMMUNITY
When we all come together in an art gallery to cherish art and creativity, we feel a sense of belonging and emotional support. Art always had ways to make us feel various emotions at once. It brings together everyone and offers a fresh perspective.
Through the programs offered by London art galleries, people can build social connections and not feel lonely all the time. Getting in touch with others can eliminate your depression caused by isolation. Interactions between fellow art lovers can improve your mood and mental health.
A HEALTHY WAY TO LET OUT YOUR NEGATIVE EMOTIONS
We often feel frustrated or angry when we cannot make things go our way or when we endure the loss of a loved one. Painting your way out of your frustration or grief can be a healthy way to express yourself.
Think about writing your feelings, it might make you feel worse immediately, but it benefits you in the longer run. The same theory goes for art as well. Whether you paint, digitally draw, or sketch, there is an outlet for you to channel all your negative energy.
A POWERFUL CONTRIBUTION TO OUR OVERALL HEALTH
Not only does the art improve our mental health, but it can impact our physical health as well. When you get out your bad and pick up your brush, you push yourself one step towards positivity. In the trying times, even a small sense of achievement can mean a lot to a person.
Keeping yourself invested in the art can improve your productivity, and with that instant boost of productiveness, start working around the house. Complete all your pending chores and keep yourself busy in a healthy way.
SO WHAT IS STOPPING YOU?
Since it is a non-medical therapy for your body, it can help you save money. Being creative or being around art can enable people to take care of themselves. Art helps you improve the levels of curiosity, independence, and enhances the quality of life.
---
Qui primis recusabo consequat ut. An qui doctus volutpat, quaestio neglegentur te his. Ex pro clita feugait voluptua, has stet meis libris at. Mazim graece definitiones et his, nostrud accusamus pro in. Postea scripserit ius ut, est ad utinam torquatos. Mel commodo offendit theophrastus eu, in usu dicunt fabulas. Simul forensibus vis an, eum ex posse molestie.